Our 14 Mushroom Blend Products
Track Orders

Shopping Cart

Sign In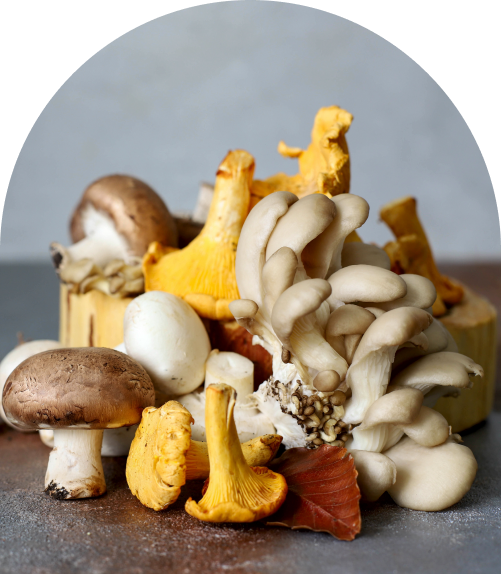 About Our 14 Mushroom Blends
Our all-in-one mushroom product, with 14 mushrooms in a single formula. You and your customers get the combined health and wellness benefits of all 14 mushrooms in one convenient, potent yet easy-to-use product!* If you can only pick one mushroom formula, make it this synergistic blend of more than a dozen time-honored species.*
Includes: Agaricus Blazei, Agarikon, Chaga, Cordyceps, Lion's Mane, Maitake, Mesima, Oyster, Poria, Reishi, Shiitake, Suehirotake, True Tinder Polypore, Turkey Tail.
14 Mushroom Blend Bulk Glycerites
Our 14 mushroom blend glycerites are alcohol-removed and triple-extracted. First, the mushrooms are fermented. This boosts the bioavailability of the polysaccharides, triterpenoids and alkaloids. Next we use a hot-water extraction to increase bioavailability of polysaccharides. Lastly, we do an extraction of 90 days in alcohol, because triterpenoids are only alcohol soluble. It takes us around 100 days to make a tincture! For our alcohol-removed glycerites, we start with a tincture then remove the alcohol and stabilize the product with USP Grade, Certified Organic vegetable glycerin.
Read More
14 Mushroom Blend Bulk Tinctures
Our mushroom tinctures are triple-extracted. First, the mushrooms are fermented to make the polysaccharides, triterpenoids and alkaloids more bioavailable. The second step is a hot-water extraction to increase bioavailability of mushroom polysaccharides. The last step of the process is a 90-day extraction in alcohol, for triterpenoids. This process takes over three months from start to finish.
Read More
14 Mushroom Blend Bulk Powders
Our farm partners have been growing and extracting mushrooms for 40+ years. We believe you can't find mushroom powders any better than these! We take steps to ensure purity and a high level of active constituents with optimal bioavailability. In raw mushrooms, the main active constituents, the 1,3-Beta Glucans, are tightly bound to the cell walls and have a low degree of bioavailability.
To target this issue and boost bioavailability of the constituents, all of our mushrooms undergo a steam activation process that breaks down the cell walls and frees the 1,3-Beta Glucans from the chitin. We cultivate both the mycelium and fruiting bodies of the mushrooms in our products. All our mushroom powders are organically grown right here in the United States!
Read More
We Make Customization Easy for You!
Support your overall health and well-being with customized mushroom blends.* All of our mushroom products start with the same high quality and expertly grown mushrooms. We only use USDA Certified Organic mushrooms grown in the USA. Choose between bulk powder, tincture, and glycerite forms.* Pick and choose your favorite mushrooms, plus botanicals and organic extracts for flavor, to create products to support your goals and brand.
Our mushroom products are made from USDA Certified Organic mushrooms. They're steam-processed, then triple-extracted for maximum bioavailability and potency. Then, we send product samples to independent labs for third-party lab testing. This offers peace of mind that our products are safe, confirms their efficacy, and ensures that no heavy metals or microbes are present.*
Our wholesale mushroom products allow you to focus on sales instead of worrying about formulation, manufacturing and supply chain, and labor costs! Want a bespoke formula? Check out our simple-to-use custom formulator!
Customize